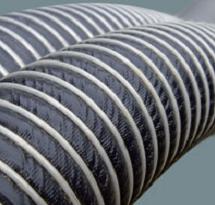 JY-2819-01 Transmission Hose for Chemicals
Category: Chemical industry class
Application: For the possession of material non-corrosive chemical liquid; filling trucks, ships or storage of chemicals products and transporting all kinds of places.
Lining: polypropylene or nylon
In the metal line: 304/316 stainless steel.
Hose color: orange, red and gray.
Fittings: All hoses on user's requirements, the factory installation of joints, joint choice of flange, fast connections, thread; Fittings material, choice of copper, aluminum, carbon steel and stainless steel.
Nominal diameter

(mm/in)

Work pressure

(psi/Mpa)

Minimum bend radius

(mm)

Reference weight

(kg/m)

Model

JY-2819-150

25/1

150/1.05

100

0.9

JY-2819-150-25

38/1.5

150/1.05

110

1.2

JY-28198-150-38

50/2

150/1.05

125

1.8

JY-2819-150-50

65/2.5

150/1.05

150

2.3

JY-2819-150-65

76/3

150/1.05

175

3

JY-2819-150-76

100/4

150/1.05

250

4

JY-2819-150-100

JY-2819-220

25/1

220/1.51

100

1

JY-2819-220-25

38/1.5

220/1.51

120

1.5

JY-2819-220-38

50/2

220/1.51

180

2.3

JY-2819-220-50

65/2.5

220/1.51

200

2.8

JY-2819-220-65

76/3

220/1.51

280

3.8

JY-2819-220-76

100/4

220/1.51

400

6

JY-2819-220-100

150/6

220/1.51

500

13

JY-2819-220-150

200/8

220/1.51

750

18

JY-2819-220-200

250/10

220/1.51

930

25

JY-2819-220-250